We've cut down on eating sweets in our home. We now eat a dessert once a week so we can look forward to it instead of having it almost daily or several times a week. Since we removed snack foods other than fruit or string cheese the kids really enjoy the desserts I prepare for them. This one was very delicious..
Apple Almond Crisp Dessert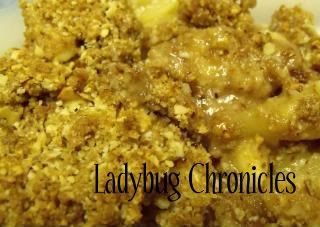 Ingredients
2 1⁄2 pounds medium-sized apples (about 8 total)
1⁄4 cup organic sugar
4 teaspoons fresh lemon juice
1 1⁄4 cups finely sliced almonds, divided
3⁄4 cup brown sugar(I have a recipe to make this from scratch) SEE BELOW
1⁄2 cup rice flour
1⁄2 teaspoon salt
1⁄2 teaspoon ground cinnamon
5 tablespoons Organic or homemade Butter, cut into small pieces
1 pint Organic Heavy Whipping Cream, whipped with a little sugar and vanilla (This is the topping)
To make Brown Sugar from Scratch
1 cup of organic raw cane sugar and add 1 tbsp of black strap unsulphered molasses, mix well and let stand anywhere from 15-20 minutes
1. Heat oven to 375 degrees. Butter a 9-by-13-inch or similarly sized baking dish.
2. Peel and thickly slice the apples. Place them in the baking dish and toss them with the white sugar and lemon juice. Spread apples out.
3. Make topping: Place 1 cup of the sliced almonds in a plastic zip lock bag, place bag on counter and crush the almonds with the flat side of a cleaver or other heavy object. (You can also do this in a food processor, but take care not to over process the nuts.) Combine crushed almonds with brown sugar, rice flour, salt and cinnamon in a bowl. Use your fingers to work the butter into the mixture until mixture is crumbly (or you may do this in a food processor using pulse the button).

4. Sprinkle topping evenly over apples. Bake 25 minutes. Sprinkle crisp with remaining sliced almonds and continue baking until fruit is tender and bubbly and topping is golden brown, about another 10 minutes. Serve warm or at room temperature with whipped cream.