On November 8th, my hubby and I celebrated our 15th wedding anniversary. It doesn't feel that long ago we said our 'I do's". It's been such a privilege being married to this man. He's the love of my life and look forward to spending the rest of my life with him... We celebrated simply like most years. We went out to eat at a restaurant called Dante's. A place I've driven by many times since we moved here in 2007 but never went. Really enjoyed it. The best part of lunch was watching the snow fall as we ate. After 15 yrs of marriage it has never snowed on our anniversary or anywhere near our anniversary so this was a big treat. Let's just say it didn't just snow, it was a blizzard.. Really..14 inches fell starting on our anniversary through the weekend.
To celebrate I made a cake.. Yep... you can't have an anniverary or a bday here at my house without a cake.. even though we just had a cake 8 days before for my daughter's 18th birthday.. hee hee!!
I didn't make it tooooo elaborate. Well, not three layers but two.. You only hit 15 yrs of marriage once.. At least for me (wink..) I love incorporating my wedding colors into the cakes I make each year. They were burgundy and creme so here is the cake below I made for our special day...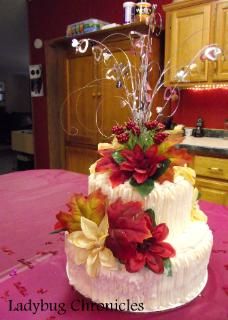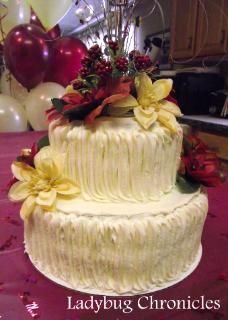 I look forward to 15 + more years with the love of my life and the best husband and father any woman could ask for. I am the luckiest woman in the world that he chose me.. Love you honey always and forever.. Your wife for life....