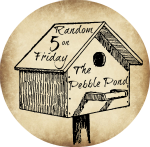 I'm excited about joining in with
The Pebble Pond
and her weekly meme "Randon 5 on Friday" Five random things so here goes...
1. My hubby took me to run errands today to pick up a part for our broken heater and while driving we just slid into an appliance store and asked me to show him the refrigerator, dishwasher and oven I liked.. hmmm.... maybe this will be the year I get new appliances for my kitchen..
2. Ditched the gym membership back in November hoping to find something else to do to get physically fit but to no avail, we are now back at the EXACT same gym starting today. Habits are hard to break I guess.. BUT this one is a good habit.. Great gym, people are friendly and it looks to be the best price for a gym membership in town...
3. My dinner consisted of organic popcorn and a homemade chocolate chip banana muffin while the kiddos ate leftover hamburgers from last night.
4. I spent almost an hour looking for my address book to send off thank you cards. Never in my wildest dreams did I think it would be in my teenage boys room, but it's always in the last place you look, right!!
5. Winter is back in Montana. Strong winds today and then the snow came.. We'll see tomorrow how much is out there when it's all said and done. Supposed to dip back into the negative temps.. oh what fun!!