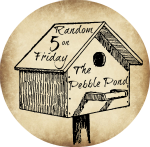 Joining in with
The Pebble Pond
and her weekly meme "Random 5 on Friday" Five random things so here goes...
1. Doing really well with my Bible in 90 Days reading plan. Started reading on Wednesday with my friend Barbara and attended my first group meeting on Tuesday evening. This is the second time reading Bible in 90 Days and I'm getting so much more out of it this time around it's so enlightening.
2. Hubby left on Wednesday morning to Yuma, Arizona for work. He'll be gone until the 19th so I'm on my own with the kiddos until then..
3. We've been unplugged with TV, video games and social media since the 1st and doing really well. Kids are no longer asking about it and have happily accepted that we are unplugged until the 31st. This time together has really helped us as well. Spending more time together and really hearing my kids has been a huge plus for me. I've been journaling each day about this challenge and look forward to sharing it all at the end of the month.
4. I think we've found a home church. We tried one out last Sunday that my kids have been attending their youth groups on Wednesdays since September. I really enjoyed the service, and I felt the Holy Spirit.. I look forward to going again tomorrow..
5. My son's birthday is next Friday, the 14th. We've been bouncing ideas back and forth on whether to celebrate next weekend or wait until hubby comes home on the 19th and celebrate that weekend. I'm thinking I'll take him out to eat for his birthday dinner on Friday and wait to celebrate with a big party after hubby comes home. That will also give me a little more time to finish up his birthday gift. I'm making him a crocheted blanket and the yarn I need to finish it is out of stock and on order but hasn't arrived yet.. So I'm on hold to get it finished until it arrives so I'll definitely be scrambling to complete it when it comes in..