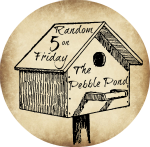 Joining in with
The Pebble Pond
and her weekly meme "Random 5 on Friday" Five random things so here goes...
1. Gathering all my info for my upcoming curriculum reviews. DS12 and I will be working on some astronomy experiments over the weekend to finish up what we were learning in regards to one of the reviews I'll be posting about. DS15 and I finished up another review today so over the weekend I'll be typing up all the info and looking forward to sharing my information with you all.
2. On Monday I'm participating in a 5 Day Blog Hop, and my topics are Organizing School and Home. Come back on Monday to check out my posts each day next week. I'm finalizing them all and can't wait to share them with you. Simplifying and Organizing has been my passion over the past few years and can't wait to show you what I've done.
3. Last night I had my monthly stamping class. I love going to these. I learned two new awesome card making techniques and will be posting the pics of them on my
Creative Cardmaking
blog over the weekend.
4. I went through all my stamping ink and decided to update the ones I love with new pads since Stampin Up came up with a new pad design which I LOVE. They work so much better than the older version so I've gathered all my older pads which some are still new and will be selling them on Ebay this week. Re-inking them all to new and hope to get some money for them to help defray the costs of the new ones..
5. Bible in 90 Days is going really well. I'm really enjoying reading the Word each day. I'm currently reading the Chronicles and when I read this two years ago, I pretty much tunnel visioned it, but now I'm gaining new insight and connecting the dots to the earlier stories from 1 and 2 Samuel and 1 and 2 Kings. What's making this reading the best ever, is going to my friend's house each week and really digging into the Word together, talking about what we've read, taking notes and watching a weekly video. This has been so helpful in gaining more knowledge of the Word. Plus we are using the Participation Guide and that has helped me in understanding the Kings in 1 and 2 Kings and now they all make more sense. This has truly been a huge blessing and can't wait to see what God has in store for me as far as learning over the next several weeks. I'll be reading it until the first week of June.