I haven't had the opportunity to post my thoughts lately.I've been having a lot of trouble with Photobucket allowing me to download and edit my photos. The site keeps freezing causing a lot of stauling and I end up holding off posting. So I hope I can get through this post and get it on in a timely manner.

I've been pretty busy since school was let out for our family back on the 25th of May. I am so happy to be enjoying the summer without school books. It's even better that I have all my curriculum purchased and my schedule is done so I can enjoy it all before we start back up in mid August.

I can't believe my babies are growing up. My oldest daughter will be hitting her last year of high school.. A senior already. My middle child, DS13 will be finishing up his junior high years as an 8th grader and my youngest DS10 will be entering 5th grade already! WOW!
For the last day of school I made the boys a cake to celebrate.. It's a chalkboard cake that says "Great Job" 2012. The sides are made with mini Kit Kat's to resemble the sides of a chalkboard. It was really yummy and the boys loved it!
I have a lot to post about so I thought I would make a couple bigger posts instead of a lot of little ones. I'll post here on what's going on with the family and another about home improvements since we've been doing a lot lately. So here goes........
I ran my first ever 10K race back on May 20th. It's called the Buffalo Jump Run 10K & Half Marathon. 10K is 6.2 miles and a half marathon is 13.1 miles. For this race I chose the 10K as it's the next longest race in my journey to running a marathon. This particular race had a lot of up hill climbing so it was a great challenge. I ran it in 1hr 10min 38 sec.
Here I am right before the start of the race.
Here we all are just starting out. This is everyone above doing the 10K and also a half marathon before we split up. 10K (that's me) went to the left at the T in the road and the half marathon runners went to the right.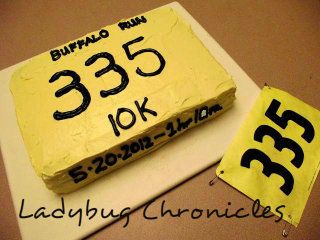 I thought it would be fun to make a racing bib cake of my number and the time I did on the race..I originally thought my time was 1hr 13 min as that was what the gentlemen holding the timer said I did but that was the time of the person who came in after me.. I was 1 hr 10:38...
My time and my position in the race!
I am now training for a half marathon which will take place here in town on September 15th.. I'm up to 9 mile runs. I still have to stop during them but I'm working on it..