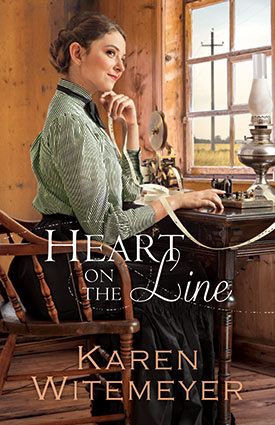 Heart on the Line
by Karen Witemeyer
Ladies of Harper's Station Novel
About this Book:
Grace Mallory is tired of running, of hiding. But when an old friend sends an after-hours telegraph transmission warning Grace that the man who has hunted her for nearly a year has discovered her location, she fears she has no choice. She can't let the villain she believes responsible for her father's death release his wrath in Harper's Station, the town that has sheltered her and blessed her with the dearest friends she's ever known.
Amos Bledsoe prefers bicycles to horses and private conversations over the telegraph wire to social gatherings with young ladies who see him as nothing more than an oddity. His telegraph companion, the mysterious Miss G, listens eagerly to his ramblings every night and delights him with tales all her own. For months, their friendship--dare he believe, courtship?--has fed his hope that he has finally found the woman God intended for him. Yet when he takes the next step to meet her in person, he discovers her life is in peril, and Amos must decide if he can shed the cocoon of his quiet nature to become the hero Grace requires.
My Thoughts on This Book:
Second book in the Ladies of Harper's Station, you will find this book full of adventure, drama, love and friendship. I was drawn in from the first chapter. I love Karen's writing style. Starting of the book tragedy strikes Grace and her father. She travels to TX to live at Harper's Station, a community of women helping women. As she continues her daily life as their Western Union Operator, she meets Amos, call sign A through the wires and becomes fast friends. After he overhears that something is wrong with Grace he travels to Harper's Station to help in anyway he can.
Can an over the wire relationship turn into something real during a time of turmoil? Will Grace finally find peace after witnessing her father's death? Will she finally find love after hiding her life and feelings? You will enjoy this wonderfully written story from page one. I couldn't put this book down until I was done. One day read and now can't wait to pick up Karen's next book.
About the Author:
Karen Witemeyer, a 2014 Christy Award Nominee, two-time RITA finalist, winner of the coveted HOLT Medallion and ACFW Carol Award, CBA bestselling author Karen Witemeyer writes historical romance because she believes that the world needs more happily-ever-afters. She is an avid cross-stitcher, shower singer, and bakes a mean apple cobbler. Karen makes her home in Texas with her husband and three children.
I received a copy of this book from the publisher in exchange for an honest review. No other compensation was given.