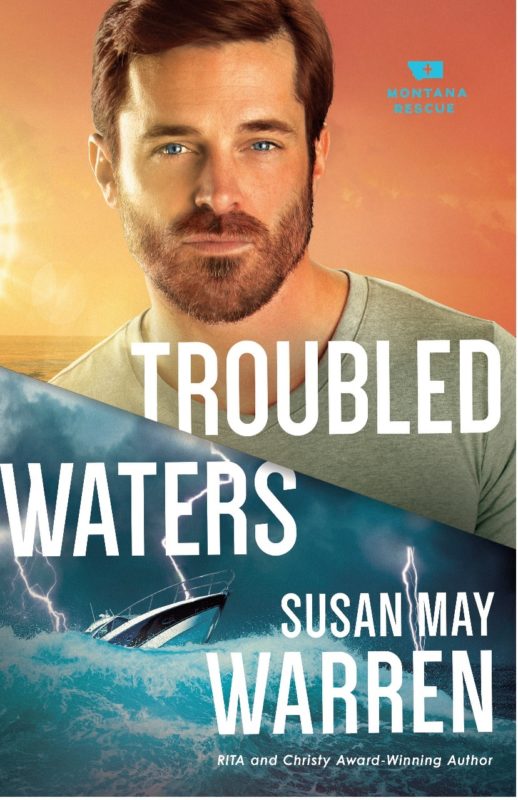 by Susan May Warren
Book 4 Montana Rescue Series
Billionaire Ian Shaw can have everything he wants–except a happy ending. Or at least that's what it feels like with his fortune recently liquidated, his niece, Esme, still missing, and the woman he loves refusing to speak to him. In fact, he doubts she would date him even if they were stranded on a deserted island.
Despite her love for Ian, Sierra Rose knows he has no room in his life for her as long as the mystery of his missing niece goes unsolved. The only problem is, Sierra has solved it, but a promise to Esme to keep her whereabouts secret has made it impossible to be around Ian.
When the PEAK chopper is damaged and Sierra lacks the funds to repair it, Ian offers a fundraising junket for large donors on his yacht in the Caribbean. But the three-day excursion turns into a nightmare when a rogue wave cripples the yacht and sends the passengers overboard. Shaken up and soaked to the bone, Ian finally has a chance to test his theory when he and Sierra do indeed find themselves washed up on a strange, empty shore.
It will take guts and gumption for the PEAK team to rescue the duo. But it will take a miracle to rescue Ian and Sierra's relationship.
My Thoughts on This Book:
I came across Susan's book series when Book 1 came out "Wild Montana Skies". I wanted to read it originally because it was based in Montana, near Glacier National Park. I love reading anything related to the state I live in so I was excited to dive in. I was not disappointed at all by this series. Each book began where the previous book left off so I think it would be great to read them all in order. I have come to look forward to reading about the heroes of each book as I turn the pages.

The best part about this book series is she doesn't leave the characters from the previous books in the previous books. We get to interact with them in each book. We get to hear about Kacey and Ben from book 1, Jess and Pete from Book 2, Gage from Book 3 and now Ian and Sierra.

This is Book 4 in the series. The story is about Ian Shaw, a billionaire trying to help those he feels he has wronged while searching for his missing niece Esme and his previous assistant Sierra. Firing her was a huge mistake but Ian isn't sure how to make up for it and bring Sierra back into his life.

We have been following their story since the beginning but now we get to dive deeper into their lives. Sierra only wants Ian. Her former boss, but he has been so consumed with finding Esme, that there wasn't any room for her in his life. Trying to move on, working at the PEAK Rescue, her life rejoins Ian when she needs him to help build funds to keep PEAK open for business after their helicopter went down and needed of expensive repairs. Sierra decides to put together a fundraiser weekend on Ian Shaw's yacht. Wooing his friends with fancy meals, and fun adventures to help them open up their pocket books and save PEAK.

A cruise trip to Cancun, a jet ski accident, a yacht accident and possibly love? Will it finally make an appearance for Sierra and Ian or will something else keep them apart.. Will the weekend trip to save PEAK cost them their lives? You will find out in Book 4 of this series.. Full of adventure, suspense, and romance. A perfect combination! Can't wait to read Book 5 in this series.. A series I could keep reading...
Susan May Warren
is the National Best-selling, RITA, Christy and Carol award-winning novelist of over fifty novels. Also a multi-winner of the Inspirational Readers Choice award, the HOLT, the Inspy's and the Swoony award, Susan loves to write and to teach people how to write through her website:
www.learnhowtowriteanovel.com.
Find her books at
www.susanmaywarren.com
I have received a copy of this book from the publisher free in exchange for an honest review. No other compensation was given...