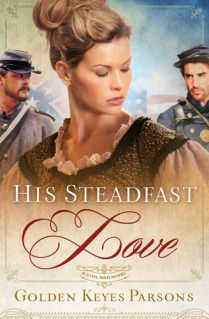 It isn't until the Civil War comes to her doorstep that Amanda Bell must choose between love and family. It's the spring of 1861 on the Gulf Coast of Texas. Amanda never thought she would marry because of a promise she made to her dying mother, but her attraction to Captain Kent Littlefield is undeniable.
When Texas secedes from the Union, her brother Daniel aligns with the Confederate States, while Kent remains with the Union troops.
Her heart is torn between the two men she is closest to and the two sides of the conflict. Amanda prays to God for direction and support, but hears only silence. Where is God in the atrocities of war—and whose side is He on?
Amanda senses her life is at a turning point. She must trust God to deliver her family through the chaos of war with her heart and her faith intact.
My Thoughts on this Book:
The author really captured the Civil War time period in this book. The storyline felt very real full of the emotions and feelings of this difficult time in American History. Intertwining the realness of war with the story of Amanda, her brother Daniel and her love Kent. Getting to see both sides of the war through the eyes of Kent as a Union officer and Amanda's brother, Daniel a Confederate soldier. You also get to see the distruction the war has on regular American citizens as you read about Amanda's family and friends in Southern Texas.
I really like that love is born through this book but it's not a quick romance but one that stands through out. A much more realistic storyline than some I've read. I really enjoyed this book, couldn't put it down. I look forward to reading more from this author.
If you want an evening of deep plowing of the heart, moving from tears one moment to laughter the next for your women, Golden is the speaker you need. Her passion is to communicate the Word of God in a manner that will encourage people to take God seriously and trust Him.
Golden and her husband, Blaine, are retired from the pastorate and live in Waco, Texas, where they enjoy their three grown daughters and eight grandchildren. A two-time cancer survivor, her testimony and myriad of life experiences lend a touch of authenticity to her teaching