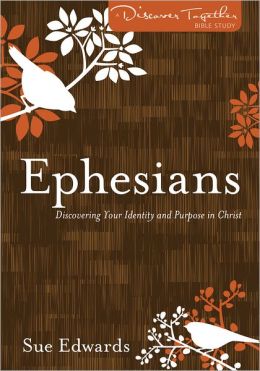 Ephesians- Lesson One
Learn to Sit

Historical Background of Ephesians:
Paul wrote Ephesians to help us understand who we are in Jesus Christ, and why He created us. Paul wrote this letter while under house arrest in Rome. He wrote it to his beloved Ephesians.

Ephesus was a wonderful city. Tourists from all over came to see the Temple of Artemis, which housed the thirty seven breasted fertility goddess. Because of her influence, perversion was big business, including public baths, cult prostitution, homosexuality and bestiality. The Ephesians incorporated black magic into their religion. When Paul put a church here he knew that he was placing it in Satan's den.

This book of the bible speaks many times about spiritual warfare. At the time of this letter, the Ephesians were only six years old in Christ, with many saved from the occult.

Introduction VIDEO
In the above Introduction Video, she goes over 3 basic words that help us understand our Christian life.
Sit- Our position in Christ
Ephesians 2:6

Walk- Our life in the World
Ephesians 4:1

Stand- Our attitude to the enemy
Ephesians 6:11-12
While watching the above video, what stood out to me the most was when she spoke about being seated in Christ- in His heavenly realm. That in our Christian walk, we try to walk and stand before we sit in Christ, which can't be done.
In today's society, interest in the alternative spirituality such as Wicca and goddess worship is growing here in America. TV, talk shows, reality shows, news, is all hammered with this. Psychics have their own shows, ghost hunters, TV show "Supernatural" and so much more. Magic, witchcraft, the occult, mother goddess, and people claiming to be spiritual. These are just a few topics Christian's are facing and discussing in today's world.
This book more than any other in the Bible helps us to understand and provides insight into this battle. Satan wants to destroy our lives and the world around us. This book helps us arm ourselves in God's way for spiritual warfare.
Many Christian woman, including myself don't really know the reasons we are here on earth. Paul, gives us what we need to live a wonderful Christian life. Everything you read in this letter is full of meaning and significance.

Lesson One VIDEO



This video above helps us understand a little about this week's lesson from the author.

Verse 2- discusses Grace and Peace..
Grace and Peace go hand and hand. Without grace you can't experience peace.
Grace means-
unearned favor, unearned gifts, never as merit for work performed.
God gives grace through His son, which we can't earn. We don't deserve and will never merit.
Peace means-
to join, a state of untroubled tranquility, a state of harmony and well being.
Peace with God refers to peace of salvation. Man's sin separates us from God, it's removed through faith in God's gracious work in Christ.
In verse 3 it says we are "blessed in the heavenly realms". This confused me at first. I actually took some time to look it up to better understand what God was saying here.
So the question is- What does it mean to be blessing in the heavenly realms?
Heavenly realms passages describe the fantastic honor that God blesses Christians. "Realms" refers to an environment, a spiritual one. The "heavenly realm" verses project Christians as already being in heaven. A preview of the glory that God bestows on us. A heavenly realm does not refer to a physical location but of a spiritual reality. It's a great way of telling us that this world is not the only reality. A larger reality where Christ is exalted as Lord. As believers we live here on earth physically, and also recieve spiritual blessings from a higher plane.
In verse 6 it tells us in reality that we are positionally seated with Christ in the highest heavenly realm. In this realm with Christ, Satan can't defeat us. How wonderful is that!!!
To conclude this week's lesson, we must learn to sit, and to rest in Christ. At the beginning of our spiritual walk with Christ, we must find our place of rest.
In addition to Ephesians 1:4-14 here are some other scriptures that work alongside what we've just read this week.
John 1:12- You are a child of God

1 Peter 2:9- You are a member of God's royal priesthood

Romans 8:17- Your are a joint heir with Christ

2 Corinithians 5:17- You are a new creature in Christ

John 15:15- You are a friend of Christ

1 John 5:18- You are born of God and the enemy cannot touch you

Romans 8:1- You are free from condemnation

2 Corinthians 1:21-22- You are established, anointed, and sealed by God

1 Thess. 4:15-18- You will be with the Lord forever
Come join in the Facebook Discussion at
The Discover Together Series
page
Please check back next Saturday for Lesson Two in Review of this Bible Study on Ephesians.
I'd love to hear from you. Please leave a comment below..
I've received a free copy of this bible study in exchange for a weekly post reviewing my own thoughts on the subject matter. No other compensation was given