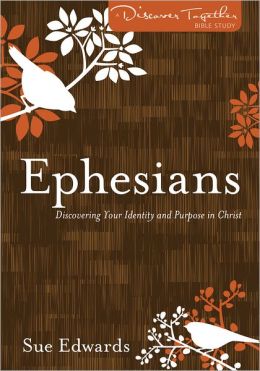 Ephesians Lesson Nine
Sit Down to Stand
This week's memory verse Ephesians 6:11-12
This week we are finishing our 9 week study by digging into the final stage. We've learned to sit, we've learned to stand, now we will learn to sit down to stand.
In the final part of Paul's letter to the Ephesians he is preparing us for the evil days. Satan wants to destroy us. If we are not sitting with Christ, haven't learned to walk with Him daily, Satan will get his claws into us and become his prey.
We must arm ourselves with the word of God to prepare ourselves for warfare.
Paul focuses on spritual warfare in this section of Ephesians. Challenging us to stand in God's armor. Evil is real. It includes Wicca, fortune telling, astrology to name a few. Listen to this final video above by author Sue Edwards on her thoughts regarding spritual warfare, evil and God.
Starting in Ephesians, Chapter 6 verse 10 we are instructed to put on the full armor of God. By doing so we will be prepared to stand our ground against evil.
What is the full armor of God?
Belt of Truth
John 14:6 "I am the way and the truth and the life"
Breastplate of Righteousness
1 Thessalonians 5:8-9 "But since we belong to the day, let us be sober, putting on faith and love as a breastplate, and the hope of salvation as a helmet. For God did not appoint us to suffer wrath but to receive salvation through our Lord Jesus Christ."
1 John 2:1-2 "My dear children, I write this to you so that you will not sin. But if anybody does sin, we have an advocate with the Father—Jesus Christ, the Righteous One. He is the atoning sacrifice for our sins, and not only for ours but also for the sins of the whole world."
Feet Fitted with readiness that comes from the gospel of peace
Ephesians 2:14 "For he himself is our peace."
Shield of Faith- It can extinguish all the arrows thrown by evil
Revelation 19:11 "I saw heaven standing open and there before me was a white horse, whose rider is called Faithful and True. With justice he judges and wages war"
Helmet of Salvation and Sword of the Spirit- The Word of God
Revelation 19:13 "He is dressed in a robe dipped in blood, and his name is the Word of God"
Some ways to put on the armor of God are spoken in the scriptures...
Ephesians 1:17 "I keep asking that the God of our Lord Jesus Christ, the glorious Father, may give you the Spirit of wisdom and revelation, so that you may know him better."
Philippians 4:6-7 "Do not be anxious about anything, but in every situation, by prayer and petition, with thanksgiving, present your requests to God. And the peace of God, which transcends all understanding, will guard your hearts and your minds in Christ Jesus."
1 Thessalonians 5:16-24 "Rejoice always, pray continually, give thanks in all circumstances; for this is God's will for you in Christ Jesus. Do not quench the Spirit. Do not treat prophecies with contempt but test them all; hold on to what is good, reject every kind of evil. May God himself, the God of peace, sanctify you through and through. May your whole spirit, soul and body be kept blameless at the coming of our Lord Jesus Christ. The one who calls you is faithful, and he will do it."
In conclusion, Paul speaks of Tychicus. A dear brother and faithful servant in the Lord. He is stating that he will be there for the Ephesians when Paul is not and will share the gospel with them in his absense. This is not the only time Tychicus is mentioned in scripture.
Colossians 4:7-8 "Tychicus will tell you all the news about me. He is a dear brother, a faithful minister and fellow servant in the Lord. I am sending him to you for the express purpose that you may know about our circumstances and that he may encourage your hearts."
Titus 3:12 "As soon as I send Artemas or Tychicus to you, do your best to come to me at Nicopolis, because I have decided to winter there."
Paul finishes the letter by saying in verses 23-24 "Peace to the brother and sisters, and love with faith from God the Father and the Lord Jesus Christ. Grace to all who love our Lord Jesus Christ with an undying love."
From the beginning to the end of the letter Paul opens and closes the letter the same way showering us with grace and peace from the Lord. What a great beginning and ending to this wonderful letter to the Ephesians..
~~~~~~~~~~~~~~~~~~~~~~~~~~
I would love to hear what you got out of this week's Lesson. Please leave a comment below.
This concludes the Ephesians Bible Study. 9 weeks and six chapters. I hope you learned something from reading this wonderful letter. I know I have. Thanks for following along with me and I hope to do another study by this wonderful author in the future....