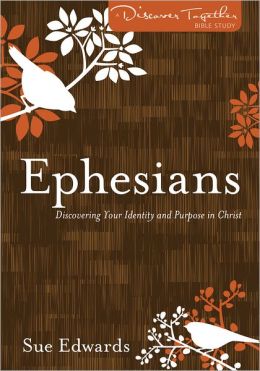 Ephesians Lesson Eight
Walk Worthy in Relationships
This past week's memory verse suggestion for this lesson is above.
This past week we were moving along with our 'walk' with Christ as we read Ephesians 5:21-6:9.
This week's lesson gives an example of a household code in the New Testament. What is a household code? It tells how people should act around their loved ones. The Bible contains 3 household codes. Listen to Sue Edwards, author, above to learn more about these codes and more..
As we read through these verses this week we will be learning the instructions for Christian households. How wives, husbands and children should be in the family unit.
What is the first verse in this week's lesson asking us all to do?
"Submit to one another out of reverence for Christ." Ephesians 5:21
What does reverence mean? The biblical term for reverence means to show respect or fear. A respectful, submissive attitude of mind resulting in affection and esteem for the person to which it is directed.
So what Paul is saying here is to submit to one another to show respect for Christ our Lord.
Now comes the verse that many know well and have been misinterpreted by many. Ephesians 5:22
"Wives, submit yourselves to your own husbands as you do to the Lord."
What does submit mean?
As we look at the next verse Paul shares that our husbands are the head just like Christ is the head of the church. As the church submits to Christ, us wives must submit to our husbands. He then states in the last word.. EVERYTHING. He desires us to submit in everything we do.
Submitting doesn't mean to give up self. As I found myself submitting to my husband of 16 yrs, our relationship flourished. I didn't give in, but I gave myself to him out of love and respect and in turn he gave me love and respect.
Paul then goes on in verses 25-33 to give instructions now to the husbands.
Love their wives just as Christ loves the church

Love their wives as their own bodies. If he loves himself, he loves himself

Man will leave his mother/father and become one with his wife. Two will become one flesh
Two things to get out of this part of Ephesians is to love your wife as you love yourself and wives must respect their husbands..
In Ephesians 6 it speaks in regards to children.
Children must obey parents in the Lord

Honor their mothers and fathers
By doing these two things you may enjoy long life on earth.
Now as parents Paul instructs us in verse 4 to not exasperate our children, and to train them with instruction of the Lord
It speaks in verses 5-9 in regards to slaves and masters but we can look to this section as wonderful advice for co-workers, bosses, teachers?
Obeying them with respect and fear and with sincere hearts.

Obeying them not only to get favor but with the will of God from our hearts

Serve wholeheartedly as if you were serving the Lord directly
It then finishes up with verse 9 as an instruction for bosses, teachers or those in authority over you to treat us as we are treating them. To not threaten and to remind that God is in control and is the master of all heaven..

~~~~~~~~~~~~~~~~~~~~~~~~~~
I would love to hear what you got out of this week's Lesson. Please leave a comment below.
Check back Saturday for my thoughts on this week's final lesson of this great study. Lesson Nine "Sit Down to Stand"
You can follow along the discussions at the Facebook Page- The Discover Together Series-
HERE