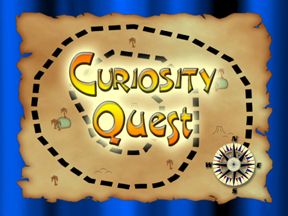 These wonderful series' is geared towards children ages 7-14, but can be enjoyed by your entire family. My 12 year old and myself watched each of these and we both gleaned a lot of information.
The combo packs include three educational episodes each. Running time for each episode is approx 30 minutes.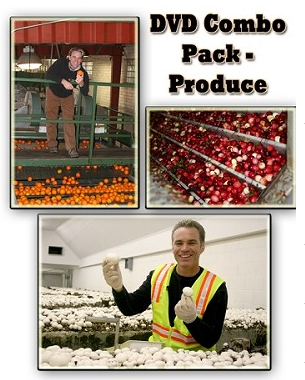 The
DVD Combo Pack - Produce
above includes these three episodes. Orange, Cranberries, and Mushrooms. After watching them you will learn how these certain foods make it from the farm to the grocery store to eat.
In the episode Cranberries, Joel takes us to Wisconsin to Habelman Bros. Farm for harvest time. This farm is all about fresh cranberries. The question was asked "Why are Cranberries in water? With that question, Joel was on his way to share with us how cranberries are grown, when they are harvested and how. After they are harvested we are taken to the factory to see how they are sorted, packaged and shipped off. You will get a chance to see two kinds of cranberry harvests. One where they go through with machines, plucking them directly off the vine's into trucks like they do at Habelman Bros. Farm, and the other where they pluck them all off, and coral them to gather as you see in the picture above. They show us how this is done at Russell Rezin & Son Inc where their cranberries are for juicing and Craison's while at Hableman Bros. Farm, their cranberries are for eating whole.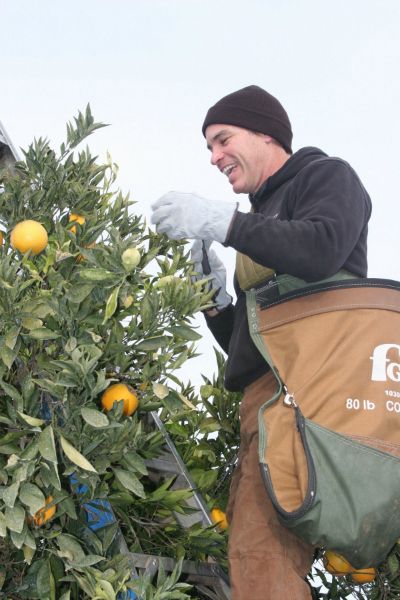 Another episode brings us to Dinuba, CA to Gillette Citrus, Co as we learn how they harvest oranges off the tree, bring them into the factory, sort them and package them for shipments. This particular company owns 2500 acres where 2000 of them are for naval oranges which they harvest in Winter, and another 500 acres for Valencia oranges where they harvest during the Summer months. This allows there company to produce oranges year round. You will learn how they utilize every single fruit that is picked off the tree so nothing goes to waste and how they keep the fruits warm during cold spells..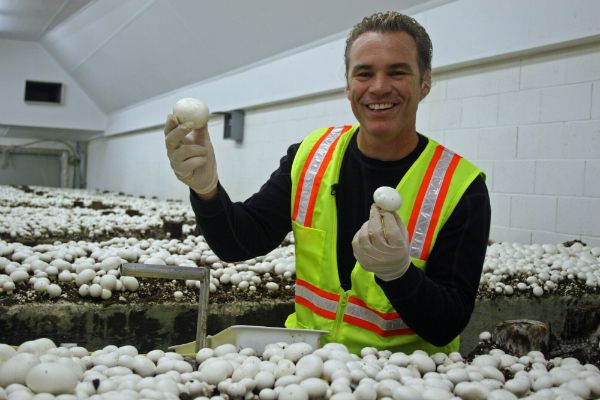 In the last episode of this Combo Pack it's all about mushrooms. Joel takes us to Watsonville, CA to Monterey Mushrooms where they produce White and Portabella mushrooms. The owner of the company walks us through the steps on how to grow a mushroom to how to pick a mushroom. (Knowing when they are ready). To be an experienced mushroom picker you must process about 104lbs of mushrooms per hour. WOW! After the mushrooms are plucked we will see how they sort, process and ship them to the stores.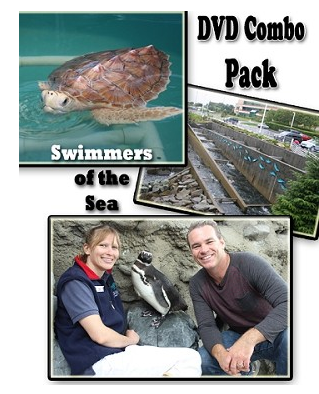 The
DVD Combo Pack - Swimmers of the Sea
is the second set that I received to review. This combo pack also includes three episodes. All about penguins, sea turtles and salmon.
The first episode takes us to Long Beach, CA to Aquarium of the Pacific where we get a chance to learn about the Magellanic Penguins. Joel is guided by Sara Mandel, Aviculturist at the aquarium as she takes us on a back stage tour to get up close to the penguins. From preparing the food, talking about their nutrition, and feeding them, you get a wonderful opportunity to learn a great deal about these wonderful birds. After this episode you will learn about their feathers, their diet, their behavior and to answer the question of "Why don't penguins fly?"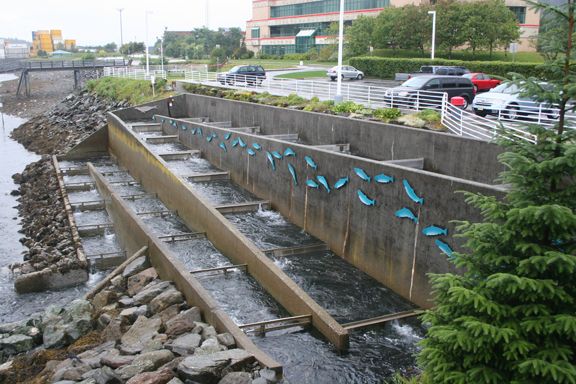 The third episode takes us to Juneau, Alaska to learn all about 5 different species of salmon. The episode starts off with a visit to the local river with Sheila from the Alaska Department of Fish and Game. She shares information about the fish behavior in the river, where they are going and the average age when the salmon hit the rivers to spawn.
After the trip to the river, Joel visits with Emily at the Macaulay Salmon Hatchery. You will learn about the fish hatchery, fish ladder, net pens, the time of the year when salmon lay eggs, along with a tour of the inside of the hatchery and fish ladder.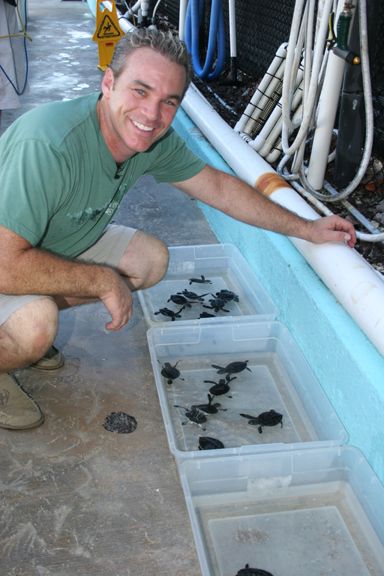 The second episode takes us to Marathon, Florida Keys to "The Turtle Hospital" to learn why some sea turtles need to be rescued, rehabilitated and released. Joel takes us on a tour of the hospital where we learn amazing facts about sea turtles including, their nutrition, weight, eggs, weight, how old they live, about how they are endangered and why you are not allowed to touch a sea turtle.
The hospital houses about 20-30 turtles at a time and at one point in the past had 200. WOW! Along with taking care of the sea turtles to bring them back into their ocean habitat they also have an educational center where the public can go and learn all about sea turtles.
These videos were very informative and my 12 year old son loved watching each episode. We decided to just have him pick an episode he was interested in and allow him to watch it. He decided he wanted to watch the Produce set first and then move on the swimmers of the sea pack. He is currently studying animals of the sea so his favorite was all about the sea turtles in the Swimmers of the Sea pack. His favorite in the Produce pack was the mushrooms. Each episode includes informative FUN FACTS throughout and questions they ask children and adult about the given topic/subject. I also watched all the episodes and gleaned a lot of information that I didn't know. I'm so happy to have learned about this company and look forward to getting more episodes in the future.
You can purchase these sets along with others at
Curiosity Quest
. The
DVD Combo Pack - Swimmers of the Sea
and the
DVD Combo Pack - Produce
costs $24.95 each set of three episodes.
If you are looking for more information about Curiosity Quest, you can check out other crew members reviews of this product in the banner below. Just click it and it will take you to a list of others that have had the opportunity to view this product in their homes.

Check out Curiosity Quest at the following links:
FACEBOOK
TWITTER