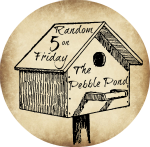 Joining in with
The Pebble Pond
and her weekly meme "Random 5 on Friday" Five random things in my life right now:
1. Drove to Billing, MT today for the Women of Faith Conference. It starts this evening and runs all day tomorrow. I'm so excited to see what God has in store this weekend through this conference. Some of the speakers are Patsy Clairmont, who I heard two years ago when I attended this conference. Sheila Walsh and Liz Curtis Higgs are two I'm excited about seeing and Matthew West is playing so it's going to be an awesome weekend.
2. I'm looking forward to enjoying Fri-Mon here in Billings. Tonight and tomorrow will be focused on the conference and then I'm not sure what to do on Sunday. I can't wait to find some things to see. Then home on Monday..
3. Hubby offered a rental car for me so I'm enjoying the joy of a new car for the next 3 1/2 days..
4. My Bible in 90 Days is going well. My friend and I decided to not read today thru Monday so I can solely focus on my trip and the conference and then we will resume on Tuesday when we meet up again for our weekly study. We are over half way done and I'm learning so much. God is amazing.
5. There's a Cracker Barrel here in town, and I'm trying to figure out if I should go eat there while I'm here. A little weird eating in a sit down restaurant alone but it's been awhile since I've been to one of these and love it. We'll see before the weekend is over...