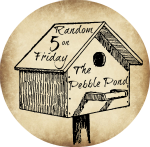 Joining in with
The Pebble Pond
and her weekly meme "Random 5 on Friday" Five random things in my life right now:
1. Just purchased a ticket to go see the Women of Faith conference four hours away. Booked a hotel, hubby wants me to get a rental car and enjoy four days by myself. The conference is two days. Friday the 25th and Saturday the 26th and then I'll spend the 27th doing who knows what (haven't figured it out, probably shopping, wink wink) and then head home on the 28th. I'm so looking forward to seeing what God has in store for me through this conference. I attended one two years ago in Spokane WA. and loved it. I also haven't been alone without kids doing something I want to do in MANY years. I only remember one other time that I was able to go somewhere without children and that was a women's retreat in our church when we lived in WA. A good 10 + yrs ago.
2. Getting all my homeschool reviews all up to date this week so I can enjoy my four day weekend..
3. I'm officially half way through reading the Bible in 90 Days as of last night. This is the second time reading it through cover to cover but this time I'm gleaning so much more than I ever did the first time. I'm also reading it alongside my great friend and we meet once a week to discuss what we've read. I'm also highlighting passages as I go through each day's reading and because of these two things, I'm learning so much.
4. We are officially on Spring Break this week. With Spring Break comes Spring Cleaning. Deep cleaning that is. I've finished my bedroom, organized my closet and now working on my office and bathroom while the boys are deep cleaning their bedrooms and their shared bathroom.
5. Once spring cleaning is done, I want to tackle the last of my recipe binders, and then start working on taping the rest of the walls in the laundry room to prepare it for wallpapering, and then tape up the walls in the three bathrooms to wallpaper in there as well. I'm ready to work on the next section of our remodel and that's getting the walls done. Once wallpapered, I'll paint them and add crown molding, and new floor molding as well as new door molding. Eventually we will be replacing all the doors in our house. One step at a time..