Are you looking for a complete history curriculum with a hands on approach to learning. A curriculum that is designed for grades 1-6? Then you'll want to check out Heroes and Heroines of the Past-American History.
What's Included in this Fantastic History Program?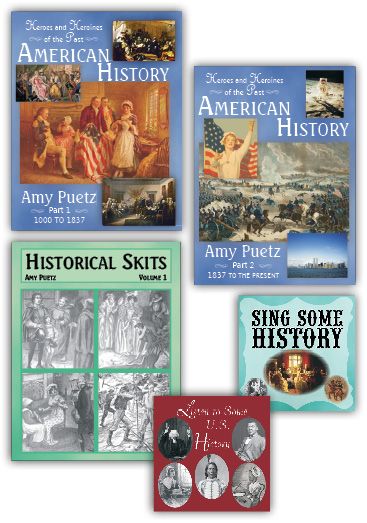 The curriculum includes three digital books and three audio downloads.
Heroes and Heroines of the Past: American History Part 2 e-book

Additional Materials Downloads

Listen to Some U.S. History MP3 Download CD
How to Use this Curriculum
Heroes and Heroines of the Past: American History Part 1 e-book
Heroes and Heroines of the Past: American History Part 2 e-book
These two e-books are the bulk of the curriculum. Each part is half of the lessons for the entire school year. This contains all the lessons and instructions on what additional materials you will need to use in each lesson.

Additional Materials Downloads
This is a supplemental materials download. It includes timelines, coloring pages, videos, music and more.
Historical Skits e-book
The Historical Skits e-book contains 19 skits to perform from the time period of Discovery to World War II
Sing Some History Download CD
Songs that are mentioned in their daily reading are added to this download CD. It contains 20 historical songs.
Listen to Some U.S. History MP3 Download CD
This download CD contains 20 audio versions of the original speeches, sermons and documents that are mentioned throughout the curriculum lesson planner.
The curriculum suggests some additional reading materials that
Golden Prairie Press
provides including the titles below. We did not receive any copies of the books below for the review so didn't have the opportunity to use it in our homeschool.
Ten Great Adventurers by Kate Dickinson Sweetser, Edited by Amy Puetz
Ten Girls from History by Kate Dickinson Sweetser, Edited by Amy Puetz
Heroines of the Past: Bible Study by Amy Puetz
Two Little Americans in Spanish California by Frances Margaret Fox
Jack and Jill by Louisa May Alcott

The curriculum is broken down into Sections. Each Section is a Week of lessons. Each Section includes 5 Lessons. Some days the reading is broken down by grade level. Grades 1-2 have the same reading as 3rd-6th but it's written for their age to better understand the material while the older children get a little more detail. The lessons take less than an hour to complete, more or less if you are working on all or some of the projects.


How Did We Use The Curriculum?
I had my 6th grade son read each day, five days a week for six weeks. We were able to complete the 6th section before writing up this review today. Since this is a downloadable curriculum, I started out by printing each daily lesson for my son to complete during his school day. After about the 3rd week I realized how much paper I was going through and when he was done reading it, he didn't need it anymore. So I chose to put it on my Nook and have him do his reading from there each day for the remaining three weeks of the review.
Each day's lesson had a reading section. After that the days were not the same as far as activities to complete. Some activities include:
Questions to answer about the daily reading
Writing Topics
Geography
Activity- Hands On
Weekly Memory Verse
Examining Historical Art
Timeline
Act It Out
Literature
Write a Story From a Picture
Recipe
I did pick and choose as we worked through each lesson. Since there is many items and activities to choose from I decided to find the activities that fit his learning style. He was not keen on doing the skits when they came up in the lessons. We did go over one of them but he didn't want to act anything out and with it just being one child, I didn't feel it was necessary. He was reluctant to listen to the music on CD but I did have him listen to a couple before deciding to skip that part of the lesson when it came up.

The activities I had him work every time that they came upon his lessons included:

Questions-
questions regarding that days reading
Geography-
a map is provided with directions on how to label it
Examining Historical Art-
There is a picture and several questions to answer that pertains to the art shown
Timeline-
Filling in information on the timeline's provided in the Additional Materials CD
Memory Verse-
First day of each section, a memory verse is suggested
Hands on Projects-
Throughout the lessons there is hands on projects to make and recipes to enjoy

He did get a lot out of the hands on activities as you can see some of the things he has made over the course of study.
In Section One Lesson One he was asked to make a canoe so he chose to make it out of playdough
The next day's lesson he was instructed to build a Viking Ship
Section 2 Lesson 1 he was instructed to build his own hammock. He made one from his blanket, bed post and chair in his room
Section 2 Lesson 5 had him make his own Adobe House
Section 4 Lesson 5 had him make his own Hornbook
The timeline my son completed for the first few sections of Part 1
The cost for the digital American History Curriculum is $98.99. If you'd like to add the literature pack to your homeschooling you can check out more information at their website
Golden Prairie Press
. The cost for the literature pack is $59.99.
If you are looking for more information about
Golden Prairie Press
, you can check out other crew members reviews of this product in the banner below. Just click it and it will take you to a list of others that have had the opportunity to view this product in their homes.

You can check out Golden Prairie Press at the following website: