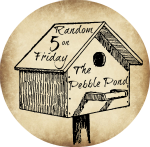 Joining in with
The Pebble Pond
and her weekly meme "Random 5 on Friday" Five random things in my life right now:
1. Went for a run and then had to out run the thunderstorm that was heading right towards me. Note to self: Don't go for a leisure run turn into speed run less than an hour after you eat dinner..
2. Just finished putting in the new floor in our guest bathroom. The laundry room is also done for those who haven't been following my remodel posts. These rooms are connected and one end of my house so had to do the entire flooring together before starting something else.
3. Just purchased new medicine cabinets and light fixtures for two of my three bathrooms. Plus new light fixtures for the laundry room and three bedrooms. I also found a beautiful stone light switch cover for the laundry room and switch plug cover to match.. Very elegant.
4. This Memorial Day Weekend I'll be in my laundry room putting in paintable wallpaper, painting said wallpaper and adding trim (crown, floor, door and ceiling) I can't wait to see it all done. The doors will all be taken down sometime this Summer to be painted since we can't afford to replace them all in our home. We have 16 and with the remodel costs the way they are already, I'll just buy some white paint and go at em'.
5. Nothing like trying to get caught up on your laundry when you've spent the entire week in it replacing floor. It was really warm today so I didn't want to plug the dryer back in until this evening since we don't have our a/c hooked up yet. Hubby said he'll be putting it in this weekend.. YEAH!