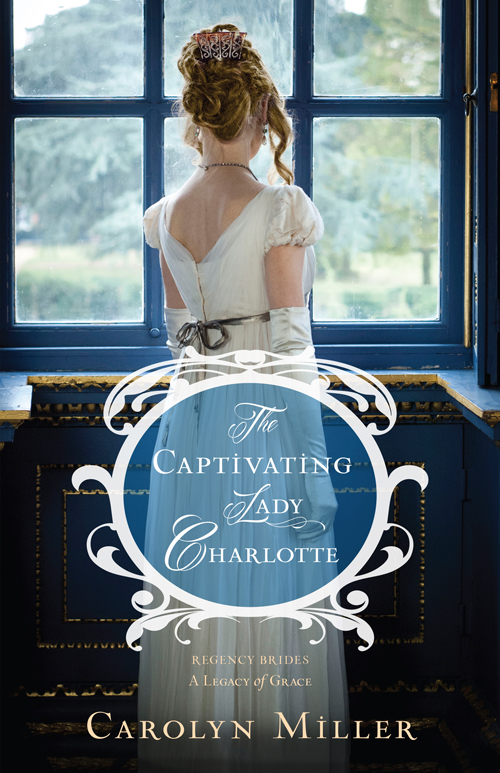 The Captivating Lady Charlotte
by Carolyn Miller
Book 2 Regency Brides- Legacy of Grace Series
About This Book:
Her heart is her own--but her hand in marriage is another matter
Lady Charlotte Featherington is destined for great things on the marriage market. After all, as the beautiful daughter of a marquess, she should have her pick of the eligible nobility when she debuts. She, however, has love at the top of her list of marriageable attributes. And her romantic heart falls hard for one particularly dashing, attentive suitor. Sadly for Charlotte, her noble father intends her betrothed to be someone far more dull.
William Hartwell may be a duke, but he knows he was Charlotte's father's pick, not the young lady's own choice. And the captivating Lady Charlotte does not strike him as a woman who will be wooed by his wealth or title. While she has captured his heart, he has no idea how to win hers in return--and the betrayal and scandal his first wife put him through makes it difficult for him to believe that love can ever be trusted. His only hope is that Charlotte's sense of responsibility will win out over her romantic notions.
Can a widowed duke and a romantically inclined lady negotiate a future and discover love beyond duty? Will they be able to find healing and hope from the legacy of grace? Poignant and charming, this is another beautifully written, clean, and wholesome Regency romance from Carolyn Miller.
My Thoughts on This Book:
Lady Charlotte, just old enough to be presented as an upcoming available bride by her parents, she has the desire to find her one true love and marry, but her parents want her to marry the title and forego the idea of marriage being about love but about a contract. Charlotte toys with this decision to honor and respect her parents and her desire to have love in her future marriage.
Duke Hartwell has seen nothing but tragedy in his life and couldn't think that any woman in his future could love him unconditionally. After finding hardship in his first marriage he doesn't know if he should seek marriage again, until he sees Charlotte. Her parents desire their marriage but out of contract, not love and he doesn't want to marry without love again. Can he convince her that she can marry him and love him too?
Carolyn has become one of my top authors recently. This is the 2nd book in the series. The first I read back in March and loved it. You can read my review
HERE
. The characters once again come to life throughout the pages of this book and you feel like you can connect to them. I loved this book and can't wait to read the 3rd book in this series...
About the Author:
Carolyn Miller lives in New South Wales, Australia, with her husband and four children. A longtime lover of Regency romance, Carolyn's novels have won a number of RWA and ACFW contests. She is a member of American Christian Fiction Writers and Australasian Christian Writers.
I received a copy of this book from the publisher in exchange for an honest review. No other compensation was given.