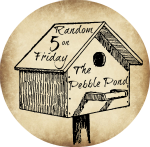 I'm excited about joining in with
The Pebble Pond
and her weekly meme "Randon 5 on Friday" Five random things so here goes...
1. Decided it was time to eliminate caffeine from my life. On Tuesday I went cold turkey and straight to decaf coffee. Had some minor headaches and was really sleep yesterday but I'm on the mend today feeling much better with real energy.
2. Trying really hard to focus on cleaning and redoing my recipe binder. Getting them all in sleeve protectors and organizing them into better categories for an easier way to find them. I just need to stay focused to get it done. I started today, got it all set up on the dining table but that's where it ended.
3. Joined our gym back after a month of leaving, went on Wednesday and again today. A little rusty even with just two months from actually attending the gym. Did the stepper both days and WOW, that sure works your calves and back of your legs.. It's a great feeling of pain..
4. Had a day off while recouping from caffeine so ended up able to read an entire book in one day. That doesn't happen often but it was nice to have a day of rest.. My family is awesome!
5. Found some awesome washi tape at the Dollar Tree today.. Totally scored on some wonderful patterns for my cards..