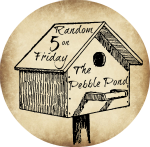 I'm excited about joining in with
The Pebble Pond
and her weekly meme "Randon 5 on Friday" Five random things so here goes...
1. Excited to see the next Volume of "Nashville- The Music of Nashville" Season 2 Volume 1 is now in stores and I picked it up today.. YEH!
2. Back in my routine with working out 4 days a week at the gym. Oh, it feels so good to be back exercising regularly.
3. Started back to journaling my food intake through FitnessPal. I didn't realize I was overeating until you start looking at it more closely. I'm now back on track and feeling great.
4. It's been over a week since I've ditched Caffeine. The first three days were a little hard, not much. A headache for all three days and day 2 I was really tired but now it's like I never had caffeine. I have my natural energy back, and it feel awesome!
5. I ran for the first time of 2014 today. Sad that it's taken me 17 days to get back to my running..