I made my first batch of homemade pizza dough. DS9 wanted pizza for his bday party so I decided to make my own since I make everything from scratch when I can. I made two and everyone loved it. There was NO leftovers..
Here is the recipe if anyone is interested..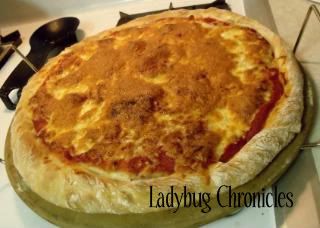 DOUGH:

6 cups of unbleached unbromated flour
1 1/2 tbsp of coarse kosher salt
1 1/2 tbsp of yeast
3 cups of water (100 degrees).
Directions:

• Mix the water, yeast and salt, add 3 cups of flour,
• Stir add the remaining 3 and stir or mix lightly until most all dry ingredients are mixed, do not knead..
• close the bowl with a lid, but not airtight.
Let stand on the sink or other place for 2 hours total.
To make pizza:

I got my recipe from
HERE