We are doing real well on our natural/organic/healthy way of eating. I thought I would share some of our recipes that we've eaten these past three weeks in case someone else out there would be interested in trying them out..
Italian Open Face Melts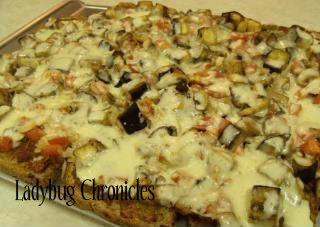 Ingredients

Ezekiel Bread
Pesto
Finely diced red onion
Diced, cooked eggplant or roasted red pepper strips
Diced zucchini or thinly sliced mushrooms
Chopped fresh tomatoes
Organic Provolone or Mozzarella (sliced or shredded)
Directions
1. Heat oven or toaster oven to 350 degrees. For each serving: Spread pesto generously on two slices of bread. Place bread slices on baking sheet, with the two slices touching each other.

2. Layer the veggies on the bread.

3. Bake until veggies are heated, 10-15 minutes.

4. Top with cheese and bake until cheese is melted and sandwich is hot, another 4-6 minutes. Serve immediately.