This recipe was a big hit for us. Instead of making a pot pie using pie crusts this recipe calls for very delicious Rosemary Biscuits.. You're family will want seconds of this dinner..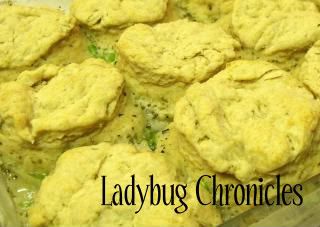 Ingredients
4 tablespoons Organic or homemade Butter
6 tablespoons flour
3 cups turkey or chicken broth
2-3 tablespoons chopped fresh parsley (or 1-2 teaspoons dried parsley flakes)
1-2 teaspoons dried basil
1⁄2 cup Organic Heavy Cream
Salt & pepper
3 carrots
1 onion
1 stick celery
2 or more cups cooked and cubed cooked Organic Turkey
2⁄3 cup peas
1 recipe Rosemary Buttermilk Biscuits(Directions and Ingredients BELOW)

Directions

1. To make sauce: Melt butter in a large, heavy saucepan over medium-low flame. Stir in flour until smooth; cook over low flame, stirring often, about 10 minutes. Whisk in the warm broth, parsley and basil. Let it simmer slowly, stirring often, about 10 minutes. The mixture will thicken into a sauce. Stir in cream and season to taste with salt and pepper. Keep sauce warm.

2. To make vegetable-turkey mixture: Add water to a depth of 2 to 3 inches to a medium saucepan; bring to boil. Meanwhile, dice the carrots, onion and celery. Add them to the boiling water; cook at a strong simmer until vegetables are crisp-tender, about 5 minutes. Drain and stir cooked vegetables, turkey and peas into sauce. Simmer 2-3 minutes, then lower heat to lowest flame and keep mixture hot.

3. To make biscuits: Heat oven to 350 degrees. Butter a 9-by-13-inch dish, one that is at least 3 inches deep. Prepare biscuit dough according to recipe directions. Cut biscuits into 10 or 12 three-inch rounds with a sharp knife and a cup, or with a round cookie cutter.

4. To bake: Spread hot turkey-vegetable in the baking dish; top with biscuits and bake until sauce is bubbly and biscuits are high and golden, about 20 minutes. Serve hot from the oven.

Rosemary Biscuits

Ingredients
3 cups Unbromated Unbleached Flour
1 cup whole wheat pastry flour
1 1⁄2 tablespoons minced fresh rosemary
4 1⁄4 teaspoons baking powder- aluminum free
1 teaspoon baking soda-aluminum free
1 1⁄2 teaspoons sea salt
1 1⁄2 sticks Organic or homemade Butter, frozen
2 cups Organic or homemade Buttermilk
Directions
Heat oven to 425 degrees. Place flours, rosemary, baking powder, baking soda and salt in a large bowl; whisk to mix them together thoroughly.

Using the large holes of a hand-held grater, grate the frozen butter directly into the flour mixture. Stir lightly and briefly to combine.

Make a well in the center of the flour-butter mixture, pour in the buttermilk, and use a meat fork to stir until mixture just barely comes together as a dough. Transfer it to a lightly floured surface and gently but briefly knead it 4-5 turns.

Use a floured rolling pin or your fingers to roll or lightly press the dough out to a thickness of 3/4-inch. Use a floured 3-inch biscuit cutter or round cookie cutter to cut out rounds, taking care to slice straight down into the dough without twisting the cutter. (This will help the biscuits rise better.) Gather any dough scraps, press them together, and cut additional biscuits.