Another wonderful find over at Pinterest. This time it's not food... I found a wonderful craft to make a monthly journal. That's what I call it and that's what I am going to use it for but she had it as a Gratitude Diary. You can check out what she did over
HERE
.
She doesn't have any pictures of how she put it together so I had to think outside the box and make mine the way that would work best for me. I was originally going to have it as a gratitude journal but I started it at the beginning of February so I was already a month into 2012. So I decided to use it to journal the things that we are doing, maybe add pictures, drawings, quotes, whatever strikes me.
Here's what I made....
This is the cover. I made it using foam board and scrapbook paper I had on hand.
Inside cover and back cover. I used different paper style that matched the color scheme but to make it a little different. I punched holes in the board and then put hole protectors around them.
Back Cover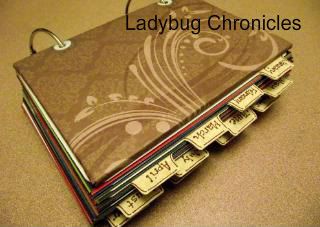 My journal/diary is 5" x 7". The pages on the inside are cut up file folders. They are more sturdy than cardstock and you can get them in different colors. I picked mine up at Walmart for under $3.00.
I made the tabs using my Stampin Up Tabs Punch. Outlined it with a Sharpie and added the month.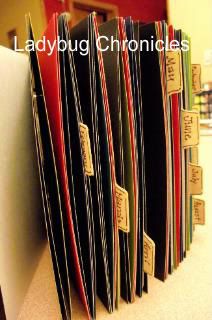 The pages on the inside