I am a little addicted to Pinterest.. It has so much neat and useful things there. All under one roof so to say! I came across a recipe on there to make homemade Reese's Easter Egg cups.. Well of course it's Valentine's Season so I made them shaped like a heart. These were sooooo delicious... the kids, hubby and myself couldn't taste the difference between these and the store bought and the best part.. they weren't hard to make.. They taste delicious right out of the freezer.. mmmmm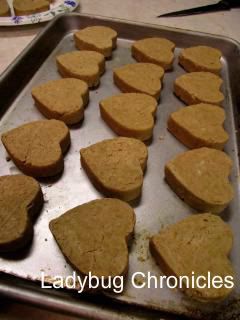 Here's the peanut butter shapes before the chocolate. I just used a cookie cutter in the size I wanted to make the cups..
yummy deliciousness....
If you'd like to make these please go over to
Whimsical Princess
to get the ingredients and directions.. I know I'll never buy store bought again!