Ran my first race for 2012 on St Patrick's Day. One year ago this was also the first race I'd ever done. They call it the St Patrick's Day Dash. Let's just say, last year I ran the 2 mile race. There was an option to run 2 or 4 miles. Since I only started running three months before this race I clocked in at 28:08.. That's 2 MILES.. I was thrilled I crossed the finish line back then..
This year was a little different. They had someone else putting it together so it was at a different location and it turned into a flat 5K for all.
It was rather brisk that morning so as you can tell above I dressed in layers. I started out with my striped long sleeve shirt. The only thing I could grab that morning because my alarm didn't go off and we got there just 25 minutes before the race started.. phew!!!
My hubby laughed at me after I put on the green shirt we got for doing the race over it.. hee hee! Oh well, wasn't running for fashion...
My goal was to run a 12 minute mile and I did.. I ran it in 38:08 minutes.. I've come a long way in one year. From someone who didn't think I could run unless someone was chasing me to running 6 miles every other day. It really feels good!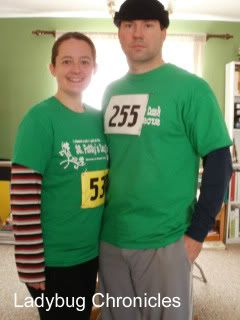 Hubby smoked me though. He raced with me but not like last year. Last year he cheered me on by running with me.. This year I was on my own.. He left me in the dust.. He finished the race in 28 minutes.. Someday I will be able to run that fast but my goal right now is to run distance not speed.. He was cute though. As I was coming around to the finish he found me and ran the last couple minutes AGAIN to the finish, cheering me on. There was an OLD man behind me..catching up..if you can picture that. There was NO WAY he was going to pass me so my hubby just kept coaching me to the finish helping me get there. It was awesome..
Next race is called the Icebreaker on April 22nd... This is the biggest race in our town. It weaves through our historic downtown.. It's going to be so much fun. I will be racing in this. You can choose 1 mile run/walk, 3 miles or 5 miles. I'll be doing the 3 mile. I probably could do the 5 mile but not sure if they would be ok with me taking an hour to get through the course.. (smiles).... I run at about a 5.2 mph pace.. I have to get my forms in asap so I guess I will need to make a decision quickly.. Can't wait..