My hubby worked for two weeks to resurface our old kitchen table. We swapped tables with a friend about 2 yrs ago. She needed a smaller table and we wanted a bigger table. Well this table had stains from hot food and drinks. The leaves on the end wouldn't stay in the holders as the holes were bigger than the pegs it went into. And there was a huge annoying crease around the edging of the table where food would be swept into as you cleaned the table and it drove me insane....
We were trying to fix up some things for our get together with some church members. It was our turn to host dinner at our house. This motivated the hubby to get to working on the table.. oh yes!!!
Here's the table in the before stages. You can see the edging has a piece that attaches to the base. That's where the food got trapped. Also note.. the square corners...Hubby has the leaves strapped as he screws them into the base of the table to make this one big permanent structure.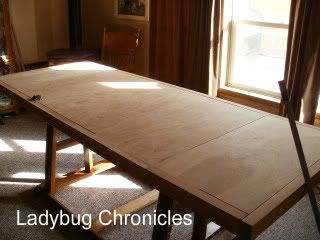 Now the table is all one solid piece and the old finish has been sanded off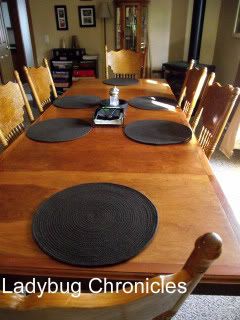 Hubby filled in the seam where the food kept going when the table got cleaned off, stained it and coated it w/ polyurethane and now looks brand new. We also purchased a router and hubby gave the table a decorative edging.. It looks fantastic..
All I did was purchase the nice placemats that's on the table and added a new napkin holder and salt/pepper holder.. You know you need new ones when you get a 'new' table.. wink wink!