I found on Pinterest a great idea to EGG a neighbor.. No... not REAL eggs but plastic eggs with candy and treats inside.
Purchased some baskets, plastic eggs, puzzles and candy. I saw also on Pinterest things to put in your plastic eggs that's not candy and saw to put puzzle pieces in, and then they gather them up and build it.
Also printed out a "We've been Egged" scroll and a poem that goes with it.
We then waited until our neighbors weren't home and 'decorated' their front yard with eggs.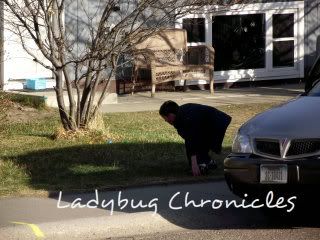 My youngest son above keeping the eggs in the yard. We chose a REALLY windy day and the eggs were light so they ended up being placed in a clump in three different places to keep them secure.
I then had my oldest son put the basket with the scroll/poem/puzzle box in a bag on their door..
It said to make it annonymous but we told them who we are in one of the eggs.. It said Happy Easter from the ---- family.
They told us the next day that they got home in the dark and were happy to go out with flashlights to look for all the eggs.. They had a blast.. We hope to do something like this again next year but pick a different friend..