I signed up to run the Icebreaker Road Race here in my town. It was back on April 22nd. I decided to run the 3 mile. They had three options. 5 miles, 3 miles and a 1 mile. I wanted to do the 3 mile because I wanted this to be my first race to run all the way through without stopping. That was my goal. I also wanted to run faster than 36 minutes..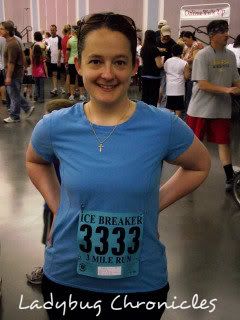 It was unseasonably warm this year. Last yr on race day it was 37 degrees. I was supposed to run in it but I hurt my tendon a few weeks before and it wasn't healed. I guess I'm glad for that because it was snowing during the race...On this race day, it was 78 degrees at the start of the race.. Very warm for Montana in April!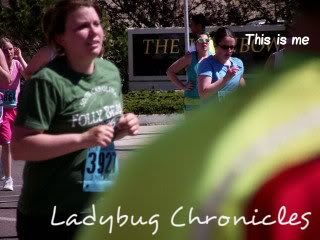 I was the only one in my family that ran the race this year. My oldest son would like to run it next year. Here I am above about 1.25 miles into the race. I'm the one in the blue on the top right. Hubby took this and as he snapped the photo someone walked in front of him..
It was to hot to wear the shirt they gave us for the race. It was long sleeve so I just wore this blue one above..
My gun time was 36:30 but my chip time or actual run time was 35:14. From the starting line to the finish line...
I mentioned before that my two goals for this race were to run without stopping... I totally did that and I was so happy when it was over.. And the second was to do it in under 36 minutes.. And I did that too.. YES!!!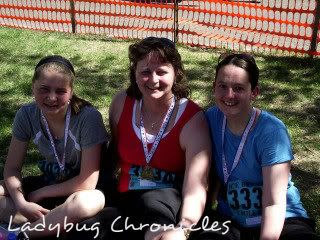 When we arrived for me to check in and get my race number, I saw my really good friend Cathie and her family checking in too. Her daughter on the left of this photo and her in the middle both ran with me in the 3 mile race. Her husband and other three children ran the 1 mile race.. It was so great to see them there and to race with them...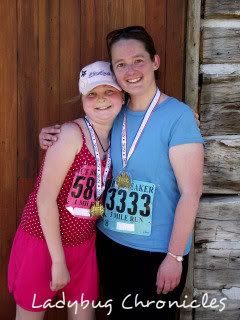 Took a picture with Cathie's other daughter after we all finished the race. We all then walked over to Dairy Queen for a yummy Blizzard to celebrate after we sat through the ceremony announcing the winners. I won a University of Montana Griz shirt when they called my race number for a drawing they were having.. and gave it to my friend's daughter above since she's a huge fan of the football team.. It was a great day racing and spending time with friends.. Can't wait until next year. I'm going to tackle the 5 mile.....