I am really behind in posting about our school room for the "Not Back to School Blog Hop". It's been a really busy week getting everything prepped and ready for our back to school day which was today. So even though I'm behind I would like to show you our school room for the year and some organization ideas I am implementing this year..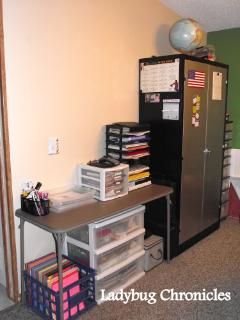 Left side of our room. Our 'school room' is actually our dining room which we converted into our school room. In all reality it's the storage room for all of our schooling supplies/ books. I do assist with my youngest in this room with a round table in the middle of the room. The two oldest do their work in their rooms.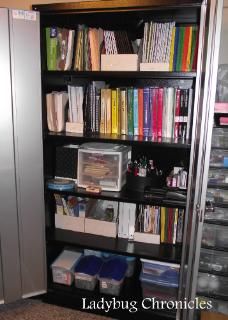 This is the metal cabinet that holds all of our supplies and future curriculum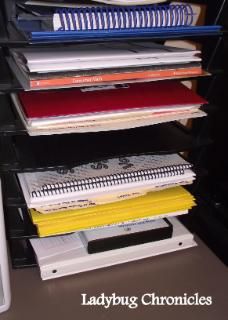 Just to show an up close file holder that stores TE manuals for my two oldest kids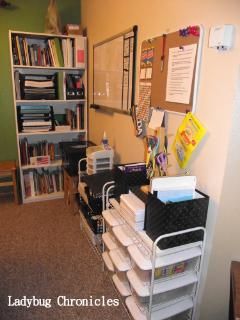 The right side of the room. The white shelf closest to us holds school supplies like pens, pencils etc and on top of that is the two youngest 'cubbies' is what I call them. It has their own personal pencils, rulers and current work in it. Next to that is really my stuff which holds my computer and my supplies in the black bins and the top white container holds everything I need for the dry erase board above.
The black box on the stool is my prize possession for this school year. It holds 36 weeks of all the copies I will need for this school year for all three of my kids. Took me about 6 weeks to get it all complete. I'll show you more about it below.. The white bookshelf top three shelves is work for my middle child. He is doing Heart of Dakota this year and I've purchased everything for his school year and it's housed on these shelves. The bottom two shelves are resource material.
I'd like to mention a lesson planner that I had made for my middle son. For about 3 yrs now I've basically used a regular wire bound notebook to write down the lessons for my son each day. Well after that many years putting that much effort into setting up his lesson plans I am burnt out writing that much down. Well, I couldn't find a premade lesson planner that would fit my needs so I made one myself then took it down to Office Max and had it bound.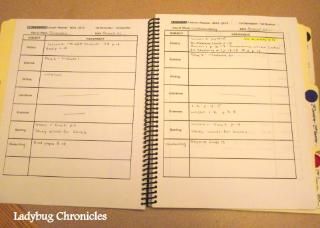 Here is a glimpse into what the lesson planner looks like. I have divided it up into four quarters using manila file folders. I have each quarter color coded to match the file box system below. Each quarter has enough pages to meet a Mon-Sat schedule for a total of 9 weeks each. This gives an extra day in case he needs to do homework over the weekend if he didn't finish through the week. I had the left column pre-typed with the subjects he will be studying leaving the bottom two blank for those subjects that are not all year long for ex. handwriting is only a quarter long and I didn't want that printed on there the whole year.
The top says HIS NAME's Lesson Planner 2012-2103....... 1st Semester-(1st Quarter and then it changes on each quarter and then the 2nd Semester and so on)
Then underneath that it says.....
Day of Week:___________________Date:______________________
With Subject on left and Assignment in the big section on the right.
I already have the first quarter completely filled out for him and as he misses assignments it will be scheduled on the weekend page.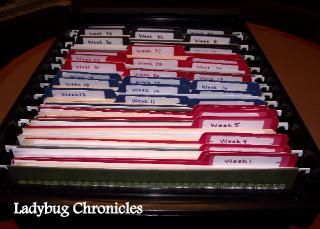 Now comes my baby... hee hee... Here above is the brain's of this year's homeschool operation. It holds every ounce of paperwork for the entire 36 weeks of school. I've divided the school year into four quarters. Each quarter represents a color.
1st Quarter- Pink
2nd Quarter- Blue
3rd Quarter- Red
4th Quarter- Black
I have 9 colored folder representing each color since each quarter is 9 weeks of our schooling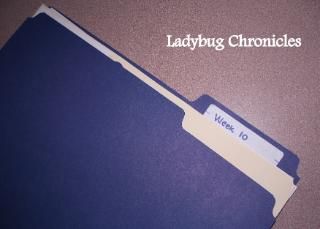 Here is a folder of Week 10. This quarter is represented by the Blue Folder. I labeled the side Week 10 in the same color as the folder.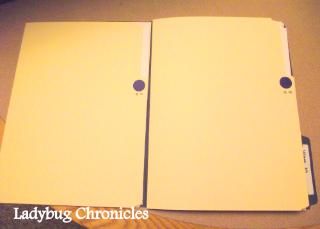 On the inside of each colored folder holds 2 manila colored folders as shown above. Each of these folders were cut down on the side to remove the tab so you could see the outside tab when this is closed. You can see that on the blue folder picture above. The reason I have two folders inside is to represent two of my children. My two youngest. I have the appropriate color coded dot on the folder to remind me this is this particular quarter and next to that I wrote the first initial of each child and the week number.
Example- Kids name would be Adam so I wrote it like this below
A
1
Some of the dots I had to color myself with the pens I purchased when I bought the folders to match. I just purchased the regular white sticker dots and filled them in. I did the dots and the dates like this above so in case any of the folders get misplaced from the outside one, I'll know where it goes.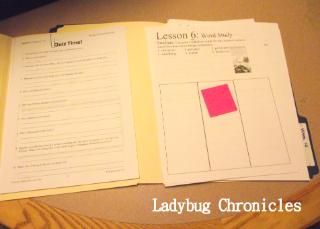 Each manila folder holds the appropriate copies for each child. I then took it a little further and dated the copies as I did the lesson planning to make it easier for the kids to know which papers to do when.
All of this is coordinated with my calendar. I didn't take a pic of my calendar but I have a circle dot like above on each week that we school. 9 weeks has one color, then another 9 for the next color etc. I've already marked the dates we will be taking off school and then I filled in the lesson planners with all this info.
All my copies for the entire year are done and filed into this awesome box streamlining my school for this year. We'll see if this works....