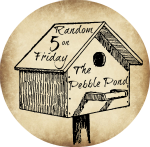 I'm excited about joining in with
The Pebble Pond
and her weekly meme "Random 5 on Friday" Five random things so here goes...
1. After a year of having issues with my computer, we rebooted it to factory setting to then have issues resurface after three days. Went down today to look for a new laptop and the gentleman there said it might be a program that my windows is having issues with. SOOOO... I went home, found the ONLY two programs that I added back on after the reboot, chose one of them and un-installed it, then defragmented my computer to close it out and reboot. VOILA! It works.. I can't believe it. A year of having issues and it was because this program was incompatable to Windows.. Insane.. I just now pray that it IS the fix and the issue won't return.. So far so good..
2. Working on re-organizing my recipe binders. Have my entire desserts/breads binder all organized and need to cut down my decorate scrapbook paper that I will be using as dividers and then label and add tabs and one of the three binders will be done.
3. It's snowed here this week. Got about 4 inches two days ago and now it's snowing again this evening expecting another inch. Winter is back here in Montana with under freezing temps for the next several days so this snow is here to stay for a bit.

4. Daughter locked herself out of her car while it was running at work. Had to go drop off a spare key so she could get into it. While snowing.. Fun times...
5. Working on learning a foreign language. Through the T.O.S. Homeschool Crew this year we have the opportunity to review Mango Languages. My DS12 is learning French through the program. I am re-learning French alongside him to help him whenever he needs it. I am also learning German which my husband can speak fluently so it will be nice to have a conversation with him in the near future outside of just telling him I love him and "Don't Touch" which is pretty much all I knew before. So in honor of our snowy weather here is a sentence in German that I have learned this far..
"Schlechtes wetter heute, nicht wahr?
Pronounced as:
SHLESHtes VETa hoita nisht vah
Which means
"Bad weather today, isn't it?"