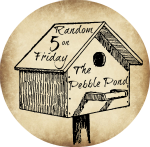 I'm excited about joining in with
The Pebble Pond
and her weekly meme "Randon 5 on Friday" Five random things so here goes...
1. The three day weekend wreaked havoc on my plans to watch my calories. Went to a surprise bday party with food/cake and then the next two days I didn't exercise so I felt like all my hard work the week before was for nothing.
2. Made two dozen homemade greeting cards for my stash. I love having cards on hand for when I need them so I don't have to always be in the mood to make them. It's nice to have a lot to choose from for that special person I send them too..
3. My oldest son, DS14, finished his 1st Semester of high school today. He's excited about starting his new Guitar 101 and Swimming classes for the 2nd Semester.
4. Went through both boys rooms/closets and re-organized them. Took out clothes and toys they no longer use or wear and now their rooms are nicely organized with everything having a place.
5. I've really liked eating salads this past week. It's hard to find some with a dressing that doesn't set you back way too many calories or full of junk. It's been a chore to find the right ones but I'm looking forward to getting more spinach/kale in my diet.