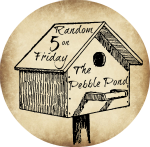 Joining in with
The Pebble Pond
and her weekly meme "Random 5 on Friday" Five random things so here goes...
1. Started the next phase in our home remodel. Working on taping up the walls in the laundry room. Sealing the corners to prepare for paintable wallpaper which I hope to install next week sometime.
2. We hit another record low here in town. -40 was our low which it hasn't been this cold in 18 years this time of year. I see it as a repeat of December when we had 9 days in a row in the negatives, dropping to -50. Today hit above 0 at 10 degrees with about 8 inches of snow on the ground from last week's snow storm.
3. Ran 4 miles today. The first time in 2014 that I've ran more than 3 miles. Did 3 miles on the track at the gym and then another mile on the treadmill w/ hill climb to simulate outside running. It kicked my butt but felt good after it was all done.
4. I've been telling myself for two years now that I'd like to run a half marathon. Signed up for one last year but didn't do it. I guess I'm looking at time.. All about how long will it take, will I stop a lot. Can I make the distance. The most I've run so far is 9 miles. I just need to stop worrying about how slow I'll be, or how long it will take to cross the finish line. Just do it! There's one in May. It's the same race that I did the 10K back in 2012. I did that race in 1 hr 10 min. 6.2 miles. They have a 10K and half marathon to choose from. A half marathon is 13.1 miles.. Running takes a lot of mental energy. Most of the time I'm fighting my brain and not my body to get moving... I want to do it but my head is telling me all the reasons I shouldn't.. We'll see.. I still have time to train if I want to do it in May, plus I can train in the cooler temps, not like last year when I had to train in the summer months.. It may work..
5. Back in January I quit drinking caffeine. I thought I'd miss it, and I'm so happy that I don't. Still drink coffee, just decaf now. It feels so great to be on my natural energy again and not dependent on the caffeine to pick me up during the day.. It's a great feeling to be real!