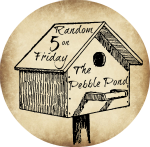 Joining in with
The Pebble Pond
and her weekly meme "Random 5 on Friday" Five random things so here goes...
1. Spent the past three days gathering supplies to celebrate Valentine's Day with my honey. We will be celebrating Saturday since he works this evening. I'm so excited since my adult daughter will be taking my boys out to eat and fun while hubby and I enjoy the house to ourselves this year. I'm looking forward to a low key enjoyable night without having to go out to a crowded restaurant.. I'm excited..
2. Got my Stampin Up order in the mail today. It was like Christmas. I was the hostess this month and it's Sale-A-Bration so was able to get a lot of the items I've had on my wishlist for free.. Now I can't wait to sit down sometime next week to make a stash of cards..
3. Went to the gym tonight to squeeze in a 35 minute workout since I got there 45 minutes before they closed. It felt great. I ran 2.5 miles without stopping..
4. I'm still trying to convince myself to run the half marathon in May. I ran this same race two years ago when it was a choice between a 10K or half. I chose the 10K which is 6.2 miles. I tried to train twice for a half for the past two yrs and the #1 thing that was hindering it was the race was in September and 12 weeks before that put me training in the Summer and the heat and I had to get up at 6am to get a long run in and I disliked it.. I can now train starting now until the race and it's cool out which is what I love.. To run in the cold.. I think I'll start training and if I feel like I can do it closer to the close date to sign up then I'll make my decision. 13.1 miles.. I'm turning 40 this August and I'd LOVE to have this race done before then..
5. I've never made my own flavored coffee. The ones with the grounds already flavored.. I saw some organic decaf coffee at the tea shoppe yesterday and decided to try it. It was delicious. Hazelnut.. mmm...