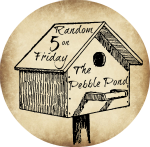 Joining in with
The Pebble Pond
and her weekly meme "Random 5 on Friday" Five random things so here goes...
1. Today is my son's 15th Birthday. Which is also Albert Einstein's birthday which he thinks is totally cool... We plan to take him to dinner this evening wherever he wants to go and then we'll have a party with a couple of his friends next Saturday when my hubby is home from his work trip.. Happy 15th Birthday, officially my now DS15 yr old..
2. Signed up for my first 2014 race which will be tomorrow. A 5K. This race symbolizes my running start. I started running in January of 2010 and this was the very first race I entered. Did horrible in it, but I finished. I've always ran this one with my hubby but he's not here this time so it's just me. We'll see how I do. The good news is they have a start time of 10am this year instead of 9am. It was 15 degrees last year at the starting time and WOW, did that affect my run. Tomorrow it's supposed to be a high of almost 50 so it's going to be a great day to run!!
3. Hubby has been gone since the 5th to Yuma, AZ. He'll be heading home on Wednesday the 19th. Things have been running smoothly though while he's away so that makes the time go by quickly, plus talking to him each evening helps a lot too.. Counting down the days..
4. It's been 14 days now since we started the Unplugged Challenge. Outside doing my reviews and my blog, I've cut out all social media, watching movies, TV and surfing the net. The kids cut out all that plus video games. It's been going well, finding time to spend together, taking the kids out on a little date each with me. I've gone with DD19 yesterday and DS15 last weekend, so I'll be going out with DS12 either tomorrow sometime after the race or Sunday after church.
5. I'm making a blanket for my son's birthday. Was hoping to have it done by today but it's not. I chose a yarn that only Walmart carried and when I went to get more they were out.. for over a week... I then decided it's taking to long and the order they said was coming was only 3 anyway and I can't guarantee they will be there when I get there so I ordered them online, site to store and they have arrived today so I'll be a busy crocheter this week to get it done before his party on the 22nd.. I hope after this is all done, I'll be able to feel my fingers.. hee hee!