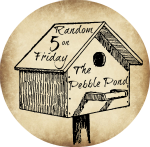 Joining in with
The Pebble Pond
and her weekly meme "Random 5 on Friday" Five random things so here goes...
1. Winter is not done here in Montana. Even though the calendar says it started yesterday, it didn't here. It's been snowing off and on since late last night and tomorrow it looks to be the same but colder in the mid 20's. This weekend definitely is NOT Spring....
2. My DS15 is having a friend over tonight to celebrate his birthday now that hubby is home from Arizona. We will be bowling tomorrow morning since that is what he wanted to do this year for a party.
3. Hubby came home safely from his two week trip to Yuma, Arizona. It's so wonderful to have him home..
4. Making a birthday cake for my son's party tonight. Since his favorite color is yellow, I've decided to make him a lemon cake with lemon frosting. He seems to think that is an awesome idea so two points for mom!!
5. Unplugged Challenge is going so well. I'm to the point where social media such as Pinterest, and Facebook is something I'm not interested in getting on and looking at. I didn't realize how much time I was wasting each day surfing those sites. I know Pinterest can come in handy and I do plan to keep on using that once the challenge month is over but only to find certain things and not to scroll forever just seeing what's on there. I've really recognized the areas of my life that seem to be wasted and needing improvements and I'm so happy to have done this challenge.. A real eye opener for me and my kids. I feel like throwing out all our video game systems because my children are so much more pleasant to be around and easier to talk to now that video games don't consume them. Their attitudes were affected by the games they played and how they lost or won.. I don't want to go back to that lifestyle.. I love the way my family is now!!