If you've been following my blog this past year, you will know that we placed our middle child, DS15 in public school for his freshman year of school. This was a really hard decision to make but was well worth it. After an entire year of 'seeing the grass on the other side of the fence' my son is really looking forward to returning home to school with us for his sophmore year. So I'm excited to share what we will be doing with him starting in August for his 2014-15 year.
You can check out what we will be using for our youngest son for his first year in middle school GRADE 7
HERE
My son will be going through Notgrass Exploring America. This curriculum will give him a credit in all three subjects of History, Bible and English.
In 8th grade we switched from using Apologia to using Alpha Omega Publications Lifepacs for Science. It was easier for my son to understand since Apologia was a bit too advanced in terminology etc and this curriculum is something he looks forward to using.
Lifepac Grade 10- Biology
To help him with understanding the experiments I've purchased the companion DVD that shows him how to do the lab work. He used this in grade 8 as well.
Math: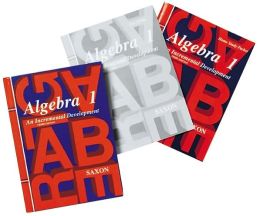 Saxon Algebra 1 with Saxon Teacher Algebra 1.
Writing:
I used this curriculum with my daughter when we were homeschooling her for her high school. My son wants to learn how to write a novel so this is just perfect. It will allow him an English credit for high school graduation.
We are still looking for a good inexpensive German curriculum for him to use. We do have a lot of supplemental materials and will have Mango Languages online for a few months into the year before we have to think of other ideas or whether we stay with Mango Languages for him to finish a complete year. We will see.
He took a Semester's worth of Guitar 101 at the public school and he loves it so we will have him continue with this for at least another Semester so he can get a full year credit and then go from there.
This is what he will be working on for 2014-15 school year. I look forward to seeing how well he does this coming year...